Y-Strap Chiropractor in Omaha NE

The Y-Axis Traction Strap or Y-Strap is a tool used in our office to help with particularly stubborn necks and upper backs. It works by decompressing the spine and correcting compressed joints in the neck and upper back. Certain joints can become very stuck and sometimes require a different technique to get them moving properly. This is why I became a Y-Strap Chiropractor in Omaha NE. The Y-Strap also works as a form of decompression in our office. Decompression helps alleviate nerve pressure caused by compressed joints or discs. This is very common in our world, especially now where postural problems from computers and smartphones are quite prevalent.
---
Is the Y-Strap safe for everyone in Omaha NE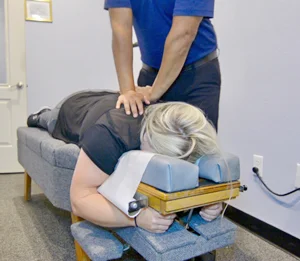 Dr. Moran has used the Y-Strap with many patients and has had amazing results with them. You can trust that Y-Strap is very safe when being used by Dr. Moran. One thing to remember is that the Y-Strap is a tool used at a doctor's office. Dr. Moran has been trained to use the Y-Strap and has the experience of being in practice since 2008. Dr. Moran knows when it's appropriate to use the Y-Strap and more importantly when not to use it.
Just like any tool at the doctor's or dentist's office, they are only as good as the professional using them, and Dr. Moran is very good with the Y-Strap at Kinetic Chiropractic helping Omaha patients. He will also tell you what to expect during and after so you will be no surprises.
This tool has become more known due to its popularity on social networks such as YouTube and Facebook. Dr. Moran is excited to bring this amazing tool that has improved the lives of many people around the world and now as a Y Strap chiropractor in Omaha.
---
SOME OF THE SYMPTOMS THE Y-STRAP CAN HELP WITH ARE:
Neck Pain
Headaches
Migraines
Upper back pain
Neck / Shoulder Pain
Jaw pain
Give us a call to see if a Y-Strap adjustment at Kinetic Chiropractic in Omaha will work for you.
Monday
8:00am - 12:30pm
2:30pm - 6:00pm
---
Tuesday
10:00am - 12:30pm
2:30pm - 4:30pm
---
Wednesday
8:00am - 12:30pm
2:30pm - 4:30pm
---
Thursday
8:00am - 12:30pm
2:30pm - 5:30pm
---
Friday
8:00am - 10:00am
---
Saturday & Sunday
Closed